Oberon Zell (Nov. 30, 1942 –)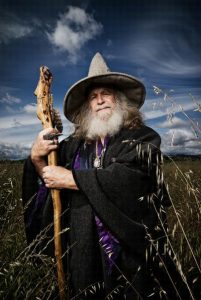 Role(s): Co-Founder, Primate, Council of Elders, High Priest, President, ERA, H.O.M.E., Nemeton
Oberon is a renowned modern-day Wizard, and an Elder in the worldwide Magickal Community. Born Tim Zell in St Louis, Missouri, and growing up in a suburb of Chicago called Crystal Lake, he received his BA in Psychology, Sociology, Anthropology and Pre-Med from Westminster College in 1965; attended graduate school at Washington University in Clinical Psychology; received a Doctor of Divinity from Life Science College in 1967; and earned his Teacher's Certificate from Harris Teacher's College in 1968. He has served as a teacher and counselor in both public and private schools, from Headstart to High School, as well as being Director of Services for the Human Development Corporation (1966-1975).
Oberon met his first wife, Martha, at the beginning of college in 1961. They were married in early '63, and their only child, Bryan, was born in September of that year.
In 1962, Oberon and Lance Christie shared water and founded the Church of All Worlds, which became the first legally-established church to ordain women as Priestesses. First to apply the terms "Pagan" and "Neo-Pagan" to the newly emerging Nature religions of the 1960s, and through his publication of the award-winning Pagan magazine, Green Egg (1968-present), Oberon was instrumental in the coalescence of the Neo-Pagan movement. In 1970, he had a profound Vision of the Living Earth which he published as an early version of "The Gaea Thesis."
After he and Martha divorced, Oberon met his soulmate, Morning Glory, at Fall Equinox of 1973, at the Llewellyn-sponsored Gnostic Aquarian Festival in Minneapolis, where he was a keynote speaker. They were married the following April 14 by Archdruid Isaac Bonewits and CAW High Priestess Carolyn Clark.
Oberon is an initiate in several different magickal Traditions, and was involved in the founding of several Pagan alliances, including the Council of Themis, the Council of Earth Religions, the Covenant of the Goddess, and the Universal Federation of Pagans. He has traveled throughout the world, celebrated solar eclipses at ancient stone circles, raised unicorns, and swum with mermaids in the Coral Sea. He also designs jewelry and sculpts figurines of gods, goddesses, and mythical creatures, which were produced and marketed through his family business. Products may be found at MythicImages.online.
In 2002, Oberon gathered together many respected mages and sages, teachers and elders, to form the "Grey Council." In 2004 Oberon and the Council published Grimoire for the Apprentice Wizard, filled with their accumulated wisdom. Oberon is also Founder and Headmaster of the online Grey School of Wizardry (GreySchool.com).
Oberon has also written Companion for the Apprentice Wizard (2006), Creating Circles & Ceremonies (with Morning Glory—2006), A Wizard's Bestiary (with Ash DeKirk—2007), Green Egg Omelette (Editor—2008), and The Witch and the Wizard OZ (with Morning Glory and John Sulak—2012).   [-OZ]