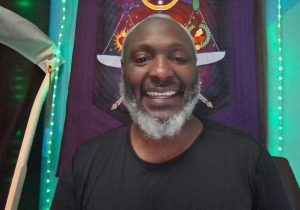 Roles: Vice President; CAW Tech Team; CAW Moderators Team
Path-work: "Harmonizing Destiny and Nature, one heart-song at a time."
As Jason Young, Sage was born in Anderson, Indiana, under the blanket of a frosty January 15th. At a very young age (between one and three), signs of awkwardness began: seeing and communicating with, and for, folks beyond the veil; proactively exercising the powers of empathy and love in conflict resolution among adults; and an uncanny inclination towards wanting to explore and understand other people and cultures beyond the expected capacity of a youngster. Add to this a burning curiosity for reading and engaging the world around. Thus began a life-long path of service in energy-working, healing, and manifesting for others.
A natural progression in developing abilities led to grownups becoming unhealthily co-dependent on Jason as an emotional and psychological crutch. Yet, hope would occasionally resurge, thanks to nature's marvels and seemingly strategic appearances of rainbows and hummingbirds. Jason sought relief from this sad predicament. So, he began creating change by first using defensive magic(k)s via Hoodoo methods at age 12 and later working manifestation magic(k)s at age 14. The magic(k) took hold, creating what would become Jason's great exodus. At 15 years of age, Jason began doing for himself what he had done for others; the process of healing shadow began.
Jason continued a solitary path in manifestation practice. After becoming an adult, Jason fleshed out using techniques and disciplines other than Hoodoo.  Jason's inclination toward service, with an insatiable hunger for learning and exploring different cultures, eventually led to active service in the U.S. Army. Over time, Jason served first as a Food Service Specialist and later as a Logistics and Distribution Hub manager. In 1996, during Jason's first assignment in Vilseck, Germany, he discovered a whole new world in the little bookstore on the military base. Finally, a section dedicated to authors writing about occult, magic(k), and craft practices. The connections would only grow from there.
During Jason's 16 years of military service, the call to continue in spiritual service renewed. To support his fellow Servicemembers, veterans, and their families, he received ordination through Universal Life Church (1999) in Fort Drum, NY.
In 2004, Jason was dubbed Grey Sage (Sage) by his military Pagan community. Sage continues to honor the name through his ability and desire to walk between the worlds, "exercise demons," "throw down in the kitchen," and distinctive grayed hair. To further his service to Pagan ministry, Sage went on to earn ordinations through Isis Invictus Military Mission (2006), Esoteric Interfaith Church (2008), and Sacred Well Congregation-Deacon (2010).
Sage served as a Distinctive/Designated Faith Group Leader (DFGL) from 2006 to 2014 at Fort Campbell, KY; Clarksville, TN; Afghanistan, and Iraq. He has created and served on Spiritual Advisory Boards to keep DFGLs and local Pagan Religious services accountable to its members; crafted children's services through a MoonDay program and Spiral Scouts; services paid for by the Chaplain's Religious Education department. Sage began a regular donation service paying for religious services' logistical needs and spiritual and social functions. He also constructed and ratified a Member's Handbook for Pagan Religious services at Fort Campbell. He created a tracking system for volunteer hours for members and contributors of all local Pagan religious activities of Fort Campbell. Sage implemented a process for conflict resolution, complete with (d)escalating conflicts of interest, consensus methods, and dismissals.
In 2008, Sage sought to honor creating and holding space for as much child-like wonder in life as possible while encouraging others to exercise their own power of choice fully. Rainbow Hummingbird became a new working name alongside Grey Sage. Same person with different hats and exercising healthy boundaries for practical wonder-working.
After scouring the internet for like-minded folks and reading the CAW mission statement, Sage has been a CAW Member (2010-Current) as Rainbow Hummingbird/Grey Sage and readily supports the Crows Nest CyberNest. He loves Chesapeake Bay Retrievers, Russian Blue Coats, traveling, cultural exploration, and Earth-centric and Nature-based (rustic arts) practices. Sage is also passionate about entrepreneurship and supporting local and small businesses.
Sage can be found at the following: