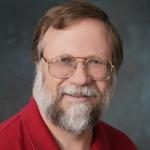 Mike Greenman (pagangreenman)
Role(s): Vice President, Church of All Worlds, CAW Moderators' Team.
Mike Greenman is 59, having been born in the mid-50's. Mike was born and raised in Los Angeles in a Lutheran household. He then entered the US Marine Corps after graduating high school, where he became involved with a Christian cult called "The Way", based in Ohio. While learning a lot with them and refusing to buy into their viewpoint – which included a very rational explanation of all the Gods, and why they think the Jewish Jehovah is the Supreme One, that rules Christians by fear – he then became Pagan.
After leaving the USMC with an honorable discharge, Mike used his electronics training to secure several positions in the aerospace electronics field, where he retired after 34 years. In planning for his retirement, he and his wife Olwen have purchased 90 acres in Mendocino County, just a short drive from Annwfn, CAW's sacred sanctuary in Northern California. Sadly, while the property is within walking distance of town, there is no feasible internet service because of geographic weirdness.
In 1990 he became involved in Wicca classes in Redondo Beach, CA. and circled with several local groups, including the Isis Ancient Cultures Society, ReWeaving, and others that have faded away. Raven, (of Raven's Flight, North Hollywood) named him greenman at a mountain ritual. In August of 1993 he joined CAW, has attended many Samhains and Beltaines at Annwfn for many years, and was active in the Star City Nest (SCN) (Hollywood) of CAW.
In Fall of 1998 he became an Initiate of the Mysteries of the Temple of Eleusis at Pinnacles. In Spring of 2002 he was handfasted in CAW tradition by Michael S. & Marilynn L. (of SCN) , to Olwen.
Mike is a longtime supporter of CAW, and of Annwfn.